Welcome to the Govt. Girls Polytechnic College Jagdalpur
The institute lies in a place of very high cultural heritage importance and a special geographical position on the map , BASTAR . Bastar is famous not only in the nation but its fame has taken it to a level of international importance where this world recognizes Bastar due to its varied cultural heritage and various topographical specialties like dense forest and beautiful rivers touching the feet of sky kissing sal trees standing upright in the jungle challenging the height of any sky scrapper in the metropolitans. The district of Bastar has very high prospects in terms of jobs and development . by keeping this factor in mind the state govt. introduced polytechnic institute for girls in the year 1989-90 with branches like commercial practice, to educate the women folk of the region in terms of technical education.
Exam Helpline numbers during lockdown period due to Covid-19

.

1. Santosh Kumar.

Lecturer/Asst exam Superintendent

8839136233

2. Sushma Dewangan

Lecturer (MOM)

9993328219

3. Satish Kumar Thakur

Lecturer (ETE)

8770241315

4. Men Prakash Sahu

Lecturer (Physics)

9165059398

5. Vinita Jain

Lecturer (CDDM)

7869555030

6. K.S. Kashyap

Exam Section Clerk

9340726788

Helpdesk email id- ggpjdp.examhelp@gmail.com
An Institute
Giving Impart Quality Education
To Build Up The Most Promissing Carier Prospects
from the beginning.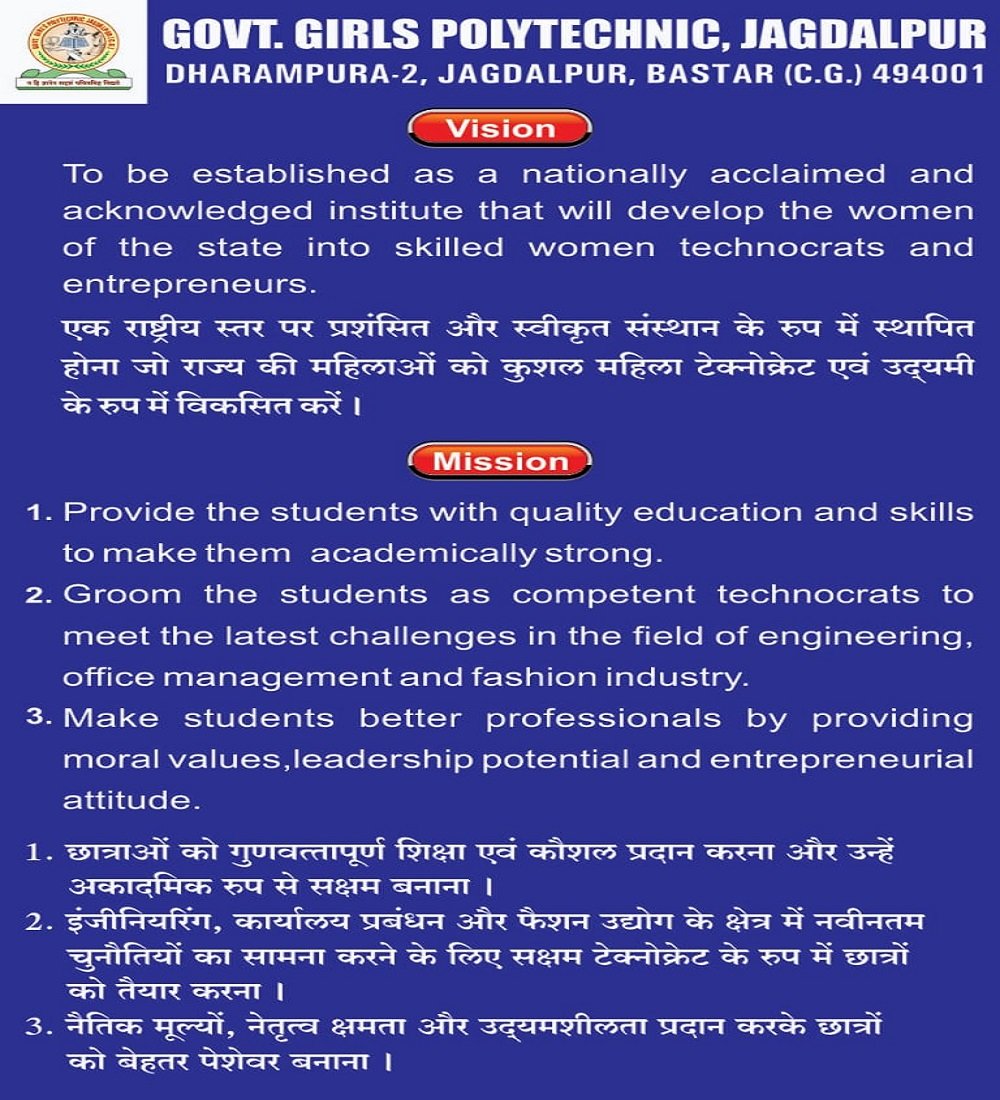 Principal's Desk
१९८९-९० में जगदलपुर में पॉलीटेक्निक कॉलेज की स्थापना की गयी और १९९०-९१ से शैक्षणिक गतिविधियाँ शुरु हुईं । लगभग २० वर्षों के सफ़र में पॉलीटेक्निक कॉलेज ने लगातार विकास की सीढ़ीयाँ चढ़ीं । दो ब्राँच से शुरु इस पॉलीटेक्निक कॉलेज में अब चार कोर्सेस चल रहे हैं । यहाँ व्यवस्थित क्लास रूम, प्रयोगशाला,...
Read More
Training & Placement
Girls Government Polytechnic, Jagdalpur organised placement drive for final year students and pass-out students. In which almost 50 students get interviewed by the company named Global Vision and six of them get placed.
Read More